The Bruce Trail Your Way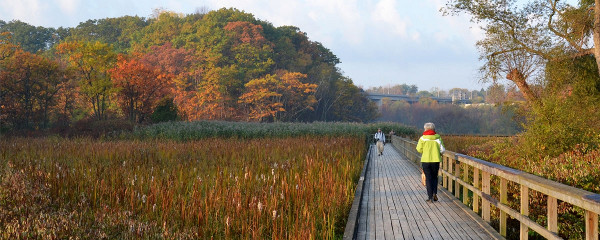 The Bruce Trail Your Way event, in partnership with the Sustainability Office and McMaster Outdoor Recreation, aimed to raise awareness of the Bruce Trail through a series of engaging lectures. Topics varied from ecology, unique habitats and birds of prey to emphasize the importance of conservation and preservation.
The Bruce Trail is Canada's oldest and longest footpath in Canada. Spanning an impressive 890 km with an additional 400 km of associated side trails, the Bruce Trail runs from Niagara to Tobermory along the Niagara Escarpment. The Niagara Escarpment itself is a masterpiece of living art as it is the place where the urban jungle, serene countryside and an array of wildlife habitats are all encompassed in one area. Because of this uniqueness it is designated UNESCO World Biosphere Reserve with the region's residents committed to its preservation.
With almost nine million people living within a 90 minute drive to the Niagara Escarpment, the Bruce Trail Conservancy (BTC) works to preserve public access to areas of the Niagara Escarpment containing the Bruce Trail while restoring its natural habitat.
Many of Hamilton's local trails connect to the Bruce Trail and contain some of the province's rare and endangered species including the Jefferson Salamander and Easter White Cedar. The most important statement made that day was how we take our local ecology for granted and not realizing that these species although common in Ontario are rare in other parts of the world such as the trillium. With increasing development on the Escarpment, there is also a heightened risk for habitat fragmentation potentially endangering many of our native species. The work that the BTC does in its acquisition  and maintenance of their conservation corridor ensures the secure preservation of these unique habitats.  With the help of their volunteers they are able to preserve 10 000 acres of Escarpment land!
The Niagara Escarpment is the focal point in the city's landscape and as Hamiltonians we probably see its dramatic cliffs on our commute to work or school. Many of us have probably hiked along the Bruce Trail, fished in its rivers or simply admired the stunning scenery without realizing how much we value the Escarpment. We all can contribute to the conservation efforts by being more aware of our surroundings and understanding the impact we have on these habitats.
For more information visit the link below: